Nikola Petrovic Krasnov (1864-1939) was born in Moscow, and finished the Moscow school of painting, sculpting and engineering in 1885. He has received a title of the "Architect of the Russian Court" in 1911. Two years later he became the "Acedemician of architecture". He arrived in Belgrade in 1922, after thirty years of fruitful career. He was employed by the Ministry of Civil Engineering of the Kingdom of SHS, as an inspector at the Department of Architecture.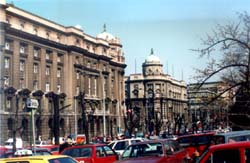 Ministry of Finances
The building was planned by the architect Nikola Krasnov after the solution proposed by the program of St. Petersburgian architects N.V.Vasiljev and S.S. Kricinski which was accepted in the 1908 contest.
Ministry of Forestry and Mining and Ministry of Agriculture and Waters
This object was built beetwen 1926 and 1929 and represented one of the largest building in Belgrade in the first half of XX century.
Vasilij (Vilhelm) Fjodorovic Baumgarten (1879-? )
finished the High Niolayevska Military Engineering Academy in St. Petersburg. He emigrated to the Kingdom of SHS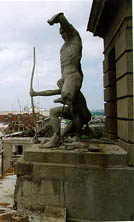 after the October revolution, and worked in the Ministry of Civil Engineering in Belgrade.

The General Staff

The building of General - Staff was erected between 1924 and 1928,
after the plan of arch. Vailij Baumgarten. Author of the sketches for
these sculptures was arch. Ivan Rik, and they were executed by the Russian sculptor Amosov. Interior of the General - staff was richly and sumptuously decorated.

A composition "Samson and the lion" could be marked out, the work of Russian sculptor Vladimir Zagorodnjuk.