Appeal to the ministers of culture
Belgrade, April 16
The Serbian Institute for the Protection of Cultural Monuments addressed Friday an appeal to French Minister of Culture Catherine Trotmann to use her authority and demand the ending of the NATO aggression on Yugoslavia.
Reminding Ms Trotmann that she is a successor to one of the greatest intellectuals of the 20th century Andre Malraux, and a representative of a country that has given birth to democracy and presented to the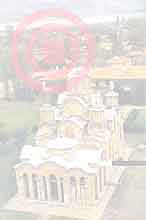 world some of the most outstanding spiritual and cultural values, Institute Director Mileta Milic underlined that the violence and devastation to which Yugoslavia is subjected at present is unprecedented in Europe's history.
The military actions of the NATO aggressor have targeted cultural monuments of the Serb people which has lived in the region for centuries. Over 100 monuments without which the European civilization would not be what it is have been damaged in 25 days of insane assaults. Medieval monasteries, jewels of Byzantine art, have been heavily damaged: Gracanica, Pec Patriarchate, Zica, Ljeviska Mother of God. The most representative examples of Slav baroque art have also been damaged, such as the monasteries on the slopes of Mt. Fruska Gora, and many 18th and 19th century monuments in cities have been devastated beyond repair. Churches lovingly preserved for centuries have also been hit: the Rakovica Monastery in Belgrade and the Holy Archangels Chapel in Zemun.
Deliberately turning a blind eye to the destruction of the culture of a people is tantamount to allowing its total disappearance, Milic said, and reminded Trotmann that future generations would hold her accountable if she were to remain silent before the desecration of any part of Europe's cultural heritage.
The Institute has addressed similar appeals also to the Italian minister of culture, the foreign ministers of all NATO member-states and the UN Secretary
________
HOME