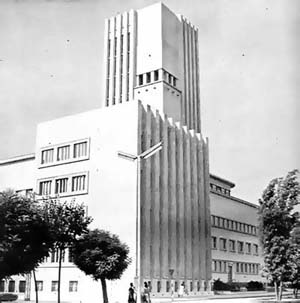 Dragisa Brasovan, The building of Executive Council, Novi Sad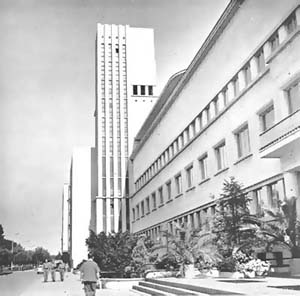 Dragisa Brasovan, The building of Executive Council, Novi Sad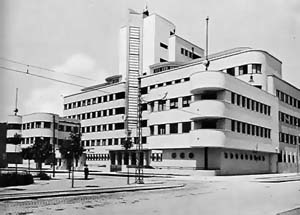 Dragisa Brasovan, The building of Yugoslav Air Force Headquaters, Zemun
Aleksandar Kadijevic, Ph. D,
Faculty of Philosophy,
Belgrade
About the Urban Architecture Monuments Destruction in the Bombing of Yugoslavia
During the bombing of Yugoslav towns, many examples of urban sacral and civil architecture from the 18th to 20th century period were severely damaged. These buildings represent significant architectural, urban and cultural monuments. In the downtown bombings of Aleksinac and Pristina were damaged or destroyed dozens of public and private buildings, among which was the large number of significant examples of the traditional and modern architecture, built not only by Serbian citizens and institutions, but by all national entities (Albanians, Turks, Moslems, Jews etc).
The old town centers of Leskovac, Nis, Cacak, Krusevac, Valjevo, Prizren, Gnjilane, Pec and Urosevac, rich with examples of older Balkan and newer stylistic architecture, were seriously endangered. In Novi Sad, Zemun and Belgrade were bombed the significant examples of Yugoslav and European contemporary architecture- the building of the Executive Council in Novi Sad, the Yugoslav Air Force Headquarters in Zemun, the buildings of the Serbian Ministry of Internal Affairs and the Ministry of Constructions in Belgrade.
The monumental Headquarters building in Zemun from 1935, work of famous Yugoslav architect Dragisa Brasovan (1887-1965), is one of the most significant examples of expressionism in Serbian architecture. The building of the Executive Council of Vojvodina (1936-40) expresses Brasovan's poetical, romantic understanding of modern architecture, close to undogmatic European recipe of International style. Both buildings are artistic centers of the towns they are in.
The building of the Ministry of Internal Affairs on Guberevac in Belgrade, built from 1979 to 1983, was the top example of contemporary Serbian architecture, with marks of international late modernistic functionalism. It was the work of famous Academy Member Ivan Antic (1923), and it got high expert's rewards.
Ending the left front of significant city axes from the highway Belgrade-Nis, it atracts attention through its constextualism, as atractive "gate" of old city's center. The monumental building in Nemanjina Street No. 9, built from 1938 to 1942, according to the project of Gojko Todic, represents the rare example of neoclassicism in the architecture of Belgrade before the Second World War, awakened by the ideas in architecture of totalitarian European regimes.
Aleksandar Kadijevic, Ph. D,
in Belgrade, Tuesday,
April 20, 1999
---