EUROPEAN BREAD BOOK
There is an urgent need to prevent further losses of traditional bread recipes connected with cultural identity. One effective way of safeguarding the "bread heritage" is by collecting, recording, and archiving them. Baking industry threatens that many old bread recipes become forgotten. The project aims are: collecting recipes and cultural background of a typical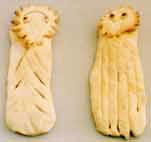 bread preparing in different European regions, to analyze and show process of aculturalizations throw "bread routes" between European regions. For those purpose original recipes for making bread, rolls and cakes from bread dough and their "cultural indentity cards" are being collected. The project aims are to prevent further losses of traditional recipes, to determine their impact on regional culture heritages and to show process of aculturalizations throw bread routes between European regions.
Help us to found out traditional bread recipes and their "identity card"!
If you know some, please write to us.